When did you do the IDA master?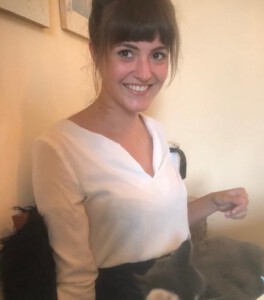 2016-2018
How was the IDA Master helpful for what you are doing right now?
The IDA Research Master provided me with theoretical background and statistical skills that I use now in my job as a PhD candidate.
What was your favorite course? And why?
I found the course on 'Theoretical Models of Individual Differences' very useful, because it really helped me build a more solid foundation for my thinking about personality and individual differences. I also really enjoyed the psychometrics course, because it deepened my understanding of the statistics and helped me become more critical of the questionnaires that I use in my research.
What was your favorite moment of the time as an IDA Student?
I would probably have to say the internships — in plural! Although I liked learning theory and application, I enjoyed it all the more when actually putting it into practice. I also had the opportunity to work with several amazing researchers (Odilia Laceulle, Theo Klimstra, and Joanne Chung) who I enjoy working with even today!
What was your motivation to finish your studies ?
Ever since doing my bachelor thesis, I was strongly motivated to do research. The IDA Research Master was for me really a way to prepare myself for that as best as possible and to gain skills that would aid me in a future career in research!
Did you experience stress or pressure in your studies, and if yes how did you deal with it?
In hindsight, I feel like saying no — although this can most definitely be attributed to a positive hindsight bias. In reality, I think there were some times in which I was stressed by the amount of new information that I had to take in, for sure. However, this was always made manageable for me by the amazing group that we had — in which there was always room to complain and to find comfort in knowing that others were experiencing the same thing.
What can you advise current or future IDA students?
I would have to say: try to enjoy it! Doing a Research Master can definitely cause some pressure and will likely take up quite a bit of your time. At times you may feel stressed, frustrated, annoyed, or desperate. But try to remember that this is also a moment to explore, to taste multiple strands of research and just think for yourself about what YOU want to do. Try to take that time to figure things out and also enjoy the exploration!
How was your overall experience in the master?
My experience was really great. I learned a lot about topics that interested me and sometimes even about topics that might not be directly related to my own field of interest, but were still interesting anyway! I also enjoyed the social climate of support and comradery, of being "in it together" — and I made friends that I still occasionally complain with together.
What did you do in your international traineeship and how did you like it?
In my international traineeship, I attended the Summer School of Personality Science and afterwards, the European Conference of Personality in Zadar. It was a really interesting experience, especially because for the most part I was there without knowing anyone. Although frightening, this also made me really open to just explore this new context, make new friends, and also gain new experiences!
Are you still in touch with other Alumni Students?
Yes, we still have our Whatsapp group in which we occasionally post things. Apart from that, I am also still in touch with two friends from the Master.
How did you experience the relationship to your teachers?
One of the things I liked best about the IDA Research Master was the informal climate during lectures, workgroups, and the internships. Due to the small group size, I really had the chance to have deeper discussions and even to start up some research projects with some of the IDA staff.
Did you know from the beginning what you want to do after your master? How did you find out what you would like to do?
Ever since my Bachelor thesis, I knew I wanted to do research. As such, it was pretty evident for me that a PhD was "the way to go", given that it would be the clearest way towards doing research myself.