In the IDA elective course "Advanced Applications: Individual Differences, Personality, and Health", students write a grant proposal on a topic to improve health in individuals with chronic diseases by promoting lifestyle change. Here is the proposal from Vrinda Dimri!
Proposal Summary
Societal Relevance
In the Netherlands, approximately 23,000 individuals suffer from a stroke every year. Moreover, incidence rates of a stroke double every decade after the age of 55 years. While stroke incidence has been increasing, the mortality rate has drastically reduced. Hence, it is important to have interventions aimed at stroke rehabilitation and prevention of other chronic diseases such as dementia. A stroke doubles one's risk for dementia, with up to 30% of stroke survivors developing dementia 15 months post-stroke.
One lifestyle factor which may prevent this transition from stroke to dementia is physical activity (PA)6. PA has shown to improve cardiovascular fitness, mobility, and cognitive functions in stroke survivors and serve as a protective factor against dementia. However, majority of outpatient stroke survivors tend to be physically inactive, thereby reiterating the need for appropriate patient-centered interventions.
Scientific Relevance
Past research has shown PA and exercise to be an effective tool in improving post-stroke physical functioning. However, there are limited studies assessing the impact of post-stroke PA on cognitive functioning. A stroke is usually accompanied by impairments in cognitive functioning, specifically in executive functions such as attention, working memory and flexible thinking. These deficits can seriously impact ones psychological well-being and lead to development of dementia symptoms in stroke survivors. Previous studies have focused on reducing dementia symptoms through PA, after a diagnosis. To our knowledge, there are no randomised controlled trials (RCTs) assessing the effects of PA prior diagnosis. Furthermore, there exists a lack of evidence about the impact of PA on psychological well-being in stroke survivors.  Finally, more home-based PA interventions are being applied, with findings indicating increased adherence and enthusiasm towards the intervention. However, personalised PA interventions in stroke survivors are under-explored.
Through the ADAPT trial we hope to address these knowledge gaps and assess the impact of a hybrid (i.e., combination of in-person and web-based) personalised PA intervention in reducing dementia symptoms, while improving cognitive, physical and psychological functioning in stroke survivors.
Introducing the ADAPT Trial
This project is a single-blinded RCT. The participants will be divided into three groups, namely a) Personalized Intervention (PI) b) Active Control (AC) and c) Waitlist Control (WC) groups. The ADAPT trial will consist of a screening where participant eligibility and willingness to participate will be assessed. Participants will be randomised into the three groups, following which the baseline measures will be assessed. The PI group participants will then have an interview with a researcher. The aim of the interview is to develop an PA regimen using a physical activity toolbox, while taking the participants needs, limitations and preferences into account15. The toolbox will consist of video demonstrations for each exercise, making it easy to administer remotely14. Participants will be able to access their personalised regimen via a website compatible with their mobiles and laptops.
Figure 1
Intervention Timeline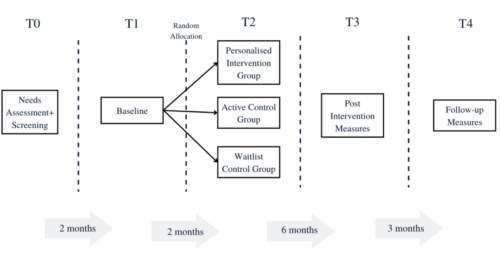 The intervention is guided by the Self Determination Theory (SDT) and Personalised Healthcare Framework (PHF). According to the SDT, feeling in control of one's own behaviours and goals while gaining mastery of new skills helps facilitate intrinsically driven and lasting behaviour change. The PHF takes an individual-centered approach, where individuals actively participate in decisions about their healthcare, with oversight from healthcare providers. The behaviour change techniques which function as the active components for improving participant psychological well-being are goal setting, action planning and providing feedback.
Fit within HSRI theme: Personalised Prevention and Care
This project aims to facilitate the usage of personalized physical activity programs to promote cognitive and physical functioning in post-stroke survivors, thereby also preventing the risk of developing dementia.
While physical activity on its own has many potential benefits, it is necessary to curate physical activity interventions based on an individual's needs, preferences, and limitations. More importantly, by involving the participant in the development process of the personalized intervention, we hope to promote shared decision making in healthcare practices. In line with the HSRI theme "Personalized Prevention and Care", we believe that improvised interventions which can be easily integrated into an individual's daily life are the way forward to bridge the gap between research and real life.
Please leave a comment if you would like to learn more about the topic!