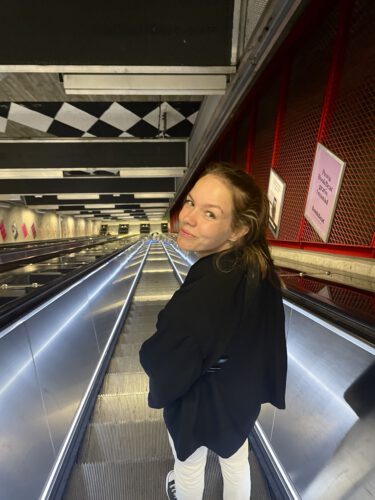 Why did you decide to do the IDA Master?
In my bachelors I noticed that the part of Psychology I enjoyed the most were the statistics and the research-oriented courses. At the end of my bachelors I knew I wanted to a research master, but only had to make a decision on which domain. Since I have a broad range of interests and wanted to keep my options a bit open, I chose the IDA master. You have a lot of possibilities to make the master to your own interests after the first semester and this made met enthusiastic about this master.
Looking at the program schedule, which course excites you the most and why?
I loved the biological correlates course, since I am a bit of biology/neuropsychology/neuroscience freak. It still amazes me how the brain and body is structuralized and functions and how these differences cause individual differences in cognitions/emotions/interactions.
Do you experience stress/pressure in your studies? How do you deal with it?
Yes, I do experience stress in my studies. This is also due to the fact that next to my studies I am also a rower and this requires a lot of planning from myself. Last summer, I was also a bit worried that I would be able to combine these two, but after a meeting with the Yvonne (the academic director) she calmed my nerves and really ensured me that the program and course coordinators were open to think of solutions when, for example, missing a lecture due to practice. In the first block I also dealt with the stress by accepting the fact that I am still learning and that grades aren't everything. This really helped me to cope with the stress I experienced.
How can your knowledge from the IDA Master be useful for the real world?
I think we do not apply the things we learn from Psychology enough in the real world. Psychology plays a role in a lot of other domains, even in domains you would not expect it to be (e.g. expectation bias in physics). To be able to have efficient and trustworthy systems (research, work environment) you need to use Psychology. We, as humans, also have a tendency to emphasize 'big' differences and tend to forget that even though humans have a lot in common there is also a lot of variance. That's why I think there needs to be an emphasis on Individual Differences.
Why do you think it is important to study what you study?
I think that the emphasis on individual differences is really important. A lot of research especially looked at big group differences, but you will not be able to apply the research outcomes on a group when you find something interesting. In our studies a lot of people are motivated to do this to 'help' people, but most of the times you will be able to help one certain person at a time. There needs to be research on how to help this specific person with taking their characteristics (e.g. personality, cognition, emotion) into account. Implications are usually the most effective when adjusted to the specific person.
What is the most fascinating thing you have learned?
In this master I could finally use the knowledge we learn in the lectures in the lab. One lab session I enjoyed the most was (of course) the one where we conducted an EEG and I was the 'participant' it was conducted on. It was really cool to see both sides of EEG experiments, so both as a participant and researcher. The practical was three hours long, but it didn't felt like three hours because of the nice things we got to discuss!
What motivates you to keep studying?
I get the most satisfaction from reflecting on what I have learned that block. Most of the times, I notice this when looking at exam material for the 3th/4th/5th time and being able to also explain it to other students. You are able to really explain a topic in depth and I noticed that in my bachelor you were more triggered to keep studying to 'pass' the exam. The emphasis in this study is more at learning skills and increasing your knowledge.
How are you experiencing the relationship with your teachers?
The teachers of the IDA program really love research and their enthusiasm also triggers your enthusiasm for research. You also notice that they love working with such a small group which is also really motivating to learn. They are also really open for your opinion and discussions.