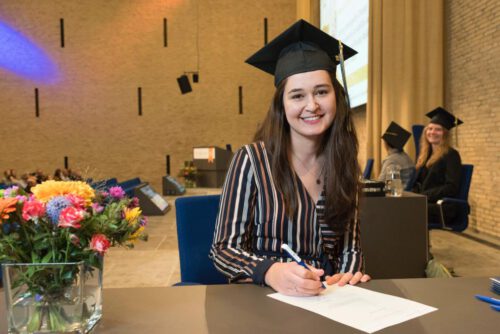 When did you do the IDA master?
2020-2022
How was the IDA Master helpful for what you are doing right now?
Currently I am doing my PhD. All the traineeships and methods courses we had in IDA prepared me well for what I am doing now. For example, I still go back to notes I took in the SEM course.
What was your favorite course? And why?
This is a bit hard to decide. But I think I enjoyed most the courses where we had to do research: the traineeships, first year paper and master thesis. It was super fun to work closely to a professor and learn from them.
What was your favorite moment of the time as an IDA Student?
I think the IDA barbeque at the start of our second year.
Did you experience stress or pressure in your studies, and if yes how did you deal with it?
Yes, sometimes I experienced stress. But I made friends in IDA, and we supported each other. It was also rewarding to look back at everything I learnt after stressful periods.
What can you advise current or future IDA students?
Make connections, and have fun doing research! Ando also try to learn as much as possible when doing your traineeships/first year paper/master thesis.
How was your overall experience in the master?
I loved my time as a student at IDA. I learnt a lot, and had multiple opportunities to practice what I was learning. The atmosphere is also different than in an 1 year master: it is small scale (we were 15) so a lot of discussions and feedback moments.
What did you do in your international traineeship and how did you like it?
I went to a 5 day summer school on multilevel SEM in Lugano, Switzerland. It was really nice.
Are you still in touch with other Alumni Students?
Yes! To both students from my cohort and the earlier cohort.
How did you experience the relationship with your teachers?
Teachers are really supportive in IDA. I learnt a lot from them.
Did you know from the beginning what you want to do after your master? How did you find out what you would like to do?
Yes, I was pretty decided on doing a PhD when I started IDA. I knew I liked research, but I was not sure what is the exact topic I am most passionate about (yet I had things I was sure I did not like). But everything became more clear with time.