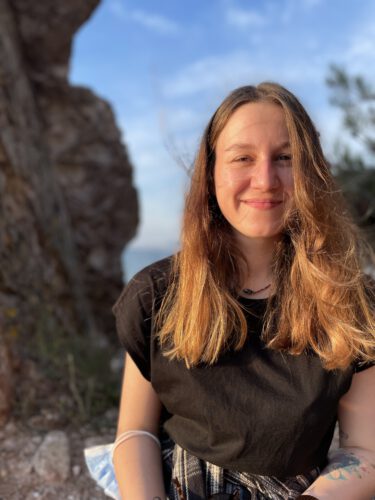 Why did you decide to do the IDA Master?
The main reason is the broad range of the program, which allows us to learn about different areas of Psychology and gain knowledge in advanced statistical analysis. The traineeship options in the program were another reason I have chosen this program because it will allow us to study with different supervisors based on our research interests.
Looking at the program schedule, which course excites you the most and why?
Having a double bachelor's degree in Psychology and Nutrition & Dietetics, I'm primarily excited about one of the elective courses, "Individual Differences, Personality, and Health". Since we are learning about the dynamics of personality in the first year, I'm looking forward to combining that knowledge with health and well-being.
Do you experience stress/pressure in your studies? How do you deal with it?
As an international student, I'm experiencing stress while adapting to a new educational system and the environment. Also, the program's content is relatively intensive because it is a research master. To deal with it, I made a study program and balanced my study time and free time. Also, if I need support, I ask IDA students, and everyone does their best to help each other.
How can your knowledge from the IDA Master be useful for the real world?
We are always discussing individual differences in many areas, such as motivation, personality, well-being, and psychopathology, which will be helpful in the future regardless of the path we want to choose. Also, due to the discussion parts of the lectures, we are questioning many things that we can relate to our day-to-day lives, which provides us to evaluate situations from a broader perspective.
Why do you think it is important to study what you study?
There are still many gaps in the literature regarding individual differences. Understanding individual differences in cognition, motivation, well-being, psychopathology, and many other areas will provide us with a better understanding of human beings, but more importantly, develop possible prevention and promotion programs in different areas.
What is the most fascinating thing you have learned?
The different physiological measurement techniques and the importance of using relevant measures while studying individual differences.
What motivates you to keep studying?
I enjoy doing literature reviews based on my research interests and trying to combine my preexisting knowledge with new topics. Also, it would be exciting to conduct studies to fill the literature gaps. Thus, even though I might have problems motivating myself sometimes, I know that learning new things about psychology makes me happy and excited.
How are you experiencing the relationship with your teachers?
We have close relationships with teachers, and they are very supportive. Also, they are open to new ideas, which allow us to learn more about our research interests during traineeships and assignments.